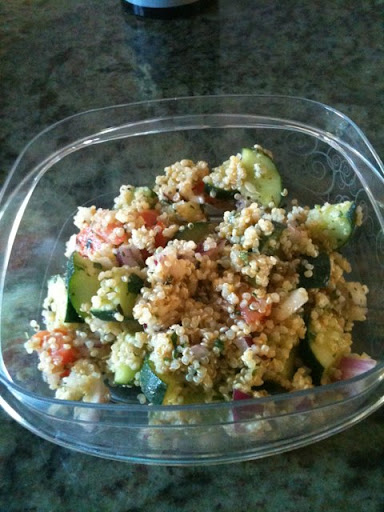 So, I experimented with one of my favorite summer dishes, panzanella. For those of you who aren't familiar, it is a Tuscan bread salad with cucumbers, tomato and red onion. On Monday night I really wanted something that tasted fresh and healthy but didn't want all of the bread so I substituted the bread with that lovely grain quinoa! Wow, the salad was just as good as ever and even better the next day. If you want to try it, this is how I made it:
1 cup quinoa, then cook per instructions
1 tomato, diced
1 cucumber, diced
1/2 red onion, diced
1 T red wine vinegar
liberal amounts of a good olive oil (the quality of the olive oil is very important)
chopped basil and parsley (both fresh)
Mix all of the ingredients in a large bowl, let sit for 20 minutes and POW! An amazingly healthy bread salad!
XoXo,
LG